2023 Team PEI Testimonials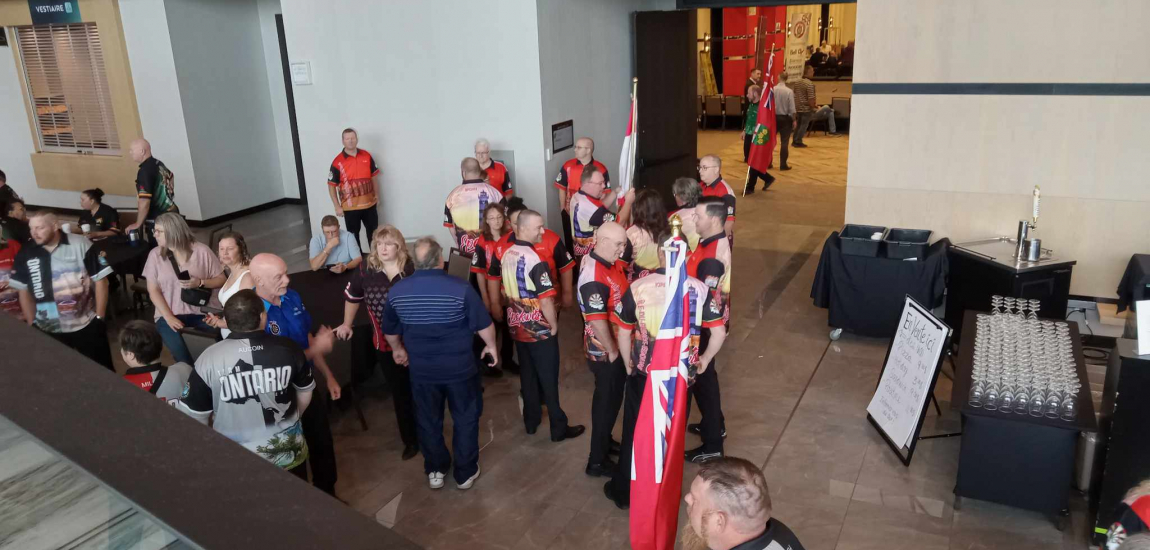 PEI team members and support volunteers who participated in the 2023 Adult National Dart Championships agreed this year's event had a 'different feel' than previous years. This difference was largely due to increased camaraderie and team bonding. A new venue (St. Hyacinth, Quebec) and the use of DartConnect® also contributed to the enhanced experience. Participants reflected on their trip and wrote testimonials to share their thoughts. Read what some of our 2023 Team PEI members want to share about their nationals experience.
Stephen Clow
2023 National Championships were a moment in time I will cherish forever.  The amount of support I was surrounded by from my fellow teammates was unforgettable.  I am so proud to have represented this great province with this specific group of friends that I consider my second family.  For the most part, I played really well, under pressure, which makes me realize that I love this sport all over again.  My teammates are such a special group of really great, caring people who genuinely want you to succeed and want you to share in their successes.  It was so satisfying to see the entire team play well and to see first timers really take it all in and get that same appreciation of the National stage and talent across this country.  If you are reading this, and you wonder what it's like and if you are good enough to do this, dream BIG and know that it is possible with hard work, practice and a love of the game.
Kat Coyle
I cannot put into words how humbling it is. To travel to Quebec with a group of people from PEI to represent the province in the Canadian Nationals. To be part of this Team was nothing short of AMAZING! The support and encouragement was always there, from everyone. Anyone who knows me, knows I'm a little...weird, some may say crazy. Either way, I am me. I cannot put into words how I felt that the whole team accepted, embraced, and supported this! I cannot wait to try out for 2024 team PEI.
Tracy Powers
From the very first time I attended National Championships in Victoria, BC in 2005, I was hooked.  I knew from that moment that I wanted to be a part of this event for many years.The feeling you get when you walk into the venue at Opening Ceremonies, a team member carrying your Provincial flag, your heart swelling with Pride as the Bagpipe plays.  Proud of your Team, your Province, your accomplishments.  A very moving moment, for sure, and this year was no different.  What a team!  Support given to each other like a huge family.  Sharing in the ups and downs of each day. You get to play darts against some of the greatest in Canada.  Just watching the skill in the room makes you want to practice harder and be better.  Making new friendships and reinforcing the old ones is something that I truly enjoy and especially look forward to.  And I can't forget, the trade-off of Team Shirts. I hope to see more people come out to our Provincial try-outs and become a part of this amazing National event.  You won't regret it.
Chris Brown
Spare. Not a glorious word, until it's needed. Flat tire, get the spare. Sick player, get the spare. I was very fortunate to be the spare this weekend, knowing I would make the trip to Nationals and may not play. I played all weekend long in the open tournament and shot ok. But then it was my turn to watch and support my fellow teammates in their games. Unfortunately the health of 2 players in 2 separate events allowed me to play. I never thought that I would even play after the open. I got to play in the men's doubles event with a great partner Craig Spencer and we had fun. I also played in the mixed doubles with a great partner Vicki Cooper and we had a good day. So needless to say a spare is not great until you need it. Thanks to Team PEI for all the support you are truly a wonderful family.
Craig Spencer
2023 was my first time representing PEI for Darts Nationals. I hope it's not my last, as I came away with a great experience I want to continue and expand on. After picking up darts a short few years ago I was unsure if I had the game or potential to make the team. After committing myself to regular practice and trying out it was a reality for this year. Being new to the local darts scene everyone I've met and especially my teammates have been nothing but great to me and have helped me along the way. I feel confident leaning on them when necessary to progress my game and hopefully have a chance to return to compete at the national level again. Besides the fact of competing at the Nationals and having a great team of people to play with and cheer on, I was blown away by the top level of darts at the competition and and as a darts fan first I really enjoyed seeing many names I've seen play before but never in person. It's something I will not forget and want to experience more.
Duane Phelan
Due to circumstances beyond my control I was unable to participate as a player for the last two teams, but was able to go and support our team in an administrative capacity. For the last two years I was able to let our director compete as a player by taking over her duties. This was a great learning experience for the first year as it was our association's first Nationals and we really had NO idea what to expect. This year was no different for me as the NDFC decided to use dart connect for the first time. A lot of questions were asked and thanks to other team's directors answering my questions I learned a lot about using dart connect, and how to operate it, which we will be using at our first open this fall. The best thing about this new system it is really user friendly. Weather you are a new player or and experienced hand at playing this program helps you grow as a player.
Christina Mill
For 17 years I've been involved with NDFC in PEI in an executive position or as a player.  In all that time, this is the year that I witnessed our team come together. We did fundraising, we gathered together for practice nights on a regular basis for months and aligned ourselves with our partners for tournaments leading up to Nationals. Some of our players didn't know each other before coming together as a team. We made the commitment to one another as partners and we connected more than I've ever seen before as a team.  When we weren't playing in our own events, we were behind other teammates cheering one another on. I never once looked back that I didn't see at least one player or volunteer there rooting for me. That support is everything. We spent our free time together as well. We shared meals, played games, played music, sang & danced. We connected with other provinces players as well. Adding each other on social media and with some trading of team shirts in the end with the new friends we made throughout the week. We had our best results this year. Not just in Canada Cup points but, in those real life impacting ways. We laughed so much. Our group chat is still going strong over a month after we came back home. I am personally, so happy I got to share this great experience with those 19 wonderful people or should I say, friends.
Wally MacLean
I have been playing darts for a long time. I had heard of the NDFC but never thought I was good enough to play at that level. The more I played and the more tournaments I played in, I realized I can keep up with the people I knew were trying out for Team PEI. I decided to try. Previously I had to have shoulder surgery, and for 2 years, whenever I played, it was with my left arm. It took me a long time to get back to what I thought was considered "good darts" on my part. It took 4 tries before I finally made the team. Then I did it again! Each time I went, it got better and better. Your team you are there with are amazing, and so are the people you meet once at Nationals. So anyone thinking they would like to try out but are not sure - there is only one way to know. Just do it! Any one at any age can do it. Trust me, because if I can, anyone can.
Steff Thouin
My experience going to nationals was different from everyone else's. Since I don't qualify for the team on my talent, I go as a volunteer. I spend the week there helping out when the players need something while they are playing, score matches or help the NDFC board with any task they can come up with for me to do. I enjoy it because it allows me to meet a lot of people, talk to the NDFC board members, and learn more about the organizational side of darts. But this year, I helped Team PEI work on one important aspect of the whole experience: team spirit.
Last year was the first year that the new PEI Darts Association was sending a team to nationals. It was a new experience for most, both on a playing level and logistics level. Everyone wanted to do good, throw good darts and concentrate on their individual performance. In the end, the team finished nationals in 12th position out of 12 teams with a total of 52 points in the Canada Cup. This year, the members of the team wanted to do better than the previous year, and a lot of focus was put on team building before leaving for nationals.
Weekly team practices were held, fundraising tournaments and other events allowed the team members to get to know each other better and build a solid team core. New players were not left alone. They were welcomed with open arms within the team and the veterans made sure that the whole experience would be fun and stress free as much as possible. We even had a mascot during the event: "Spud", a bright red dragon plushie that one of the new players brought along for the trip. Everyone took pictures with Spud, even players from other provinces and it added to the whole team spirit experience as we shared pictures of Spud's adventures at nationals through the team chat.
When compared to last year, if team spirit was maybe at level 20 then, it was definitely at level 100 this year. Players always had the other Team PEI players cheering them on when playing. No one was left alone. There were tons of high fives and hugs and congratulations that bonded the 17 players that participated in the different events. I'm happy to think that I helped grow the team spirit this year and hopefully will be able to do the same again in the future. Team PEI finished 11 out of 12 teams, with a total of 70 points in the Canada Cup. We improved! Team spirit helped. Being a tight team helped. Cheering each other while playing helped. Team spirit is not just a thing that works for teams that finish at the top of the standings. It works for teams that are growing in the sport and trying to get better. Team PEI was better this year, and everyone in the team would agree that team spirit played a huge part in being better.
We will get better!
Brenda Durant
Even though I couldn't play, being a volunteer was a great experience that I will never forget. All of the team and all other players were very supportive and helped me throughout. I would recommend this for anyone.
Corey LeFort
Playing for team PEI is one of my proudest achievements. Being a 50 year old with only a few years of darts under my belt should be proof to anyone that it's achievable. Yeah it's getting tougher to make the team but that's the greatest part; the level of competition across this island is impressive and just getting better. This was my second time making the team and it was even more fun than the first which was also amazing. The camaraderie of the team this year was super and I think it helped everyone get past the nervousness. I was thrilled with the fact everyone was about team success and that showed with our overall improvement. Personally I felt like I reached a new level, and honestly it's going to this tournament which brings out the best of me. I see a bright future for team PEI and I hope to see even more competition at this years qualifiers because I've seen a huge improvement in so many players. Being in a room with the absolute best dart players in the country is overwhelming to think about, but once you're there and take that first leg... it just brings your love of this game to a whole new level. Think about it; a chance to represent your province as a competitor in a nationally recognized competition! If that doesn't pump you up, you need to check your pulse. In closing I just hope everyone had as much fun as I did, and next qualifiers I'm going for the title "champion" so now it's practice time!
Vicki Cooper
I have been to 8 National Shoots. Each one different but same at the same time. Loving each for each held different memories. The best trip was the last trip I just played. It was the first time that I have seen the team interact with each and every level possible. We even had all the girls plus one in the same room at the same time having a good time (mixed with a few of the guys). we all supported each other. I can honestly say that I felt part of the team instead of an outsider. To get that kind of team spirit was amazing and will go a long way in the future to help and support new player or player just struggling. I shot well for the most part but struggled with my doubles big time. As i noticed a few others were doing as well. With all this going on all I heard was good darts, next time, great darts and continued all week with everyone encouraging everyone . It was great
Bill Durant
All I can say is awesome!
Awesome teammates,
Awesome competition (on the most part),
Awesome experience,
Every dart player should experience it at least once.
Patti Sappier
I'm honoured to have had the opportunity to play in the Nationals with this amazing team. I enjoyed getting to know each and everyone of you. What I loved the most was the support we had for each other. Team PEI was by far the best team I've ever been a part of. Thank you for welcoming me on the team.
Mary Gallant
First of all I would like to a big thank you to all of our board members for making this year happen. My experience this year was great meeting new people from other teams.  Being on team PEI was amazing. With the team we had, everyone was supportive of each other and everyone else. There was alot of commradeship. We all help support each other whether it was a little coaching or just to talk to. I loved being on our team and the experience in Quebec was great. Seeing that the last time I was in St. Hyacinthe was back in 2009 so 14 years ago. The venue was great and everyone was nice.
My performance for playing on team PEI was great. I made it to the top 64 in women's singles with another teammate; Tracy Powers whom also made top 64. I was very excited and honored to have made it that far for the first time. Plus, throwing a 180 in the Canadian Open for the ladies singles was exciting for me personally.
So if you're a dart player I would recommend come out and tryout for our team PEI at our next set of qualifiers. Also I would to say a big thank you for being on team PEI with some great players and friends. Thank you