RED ROCK OPEN Dart Shirt Available Now
Friday, September 1, 2023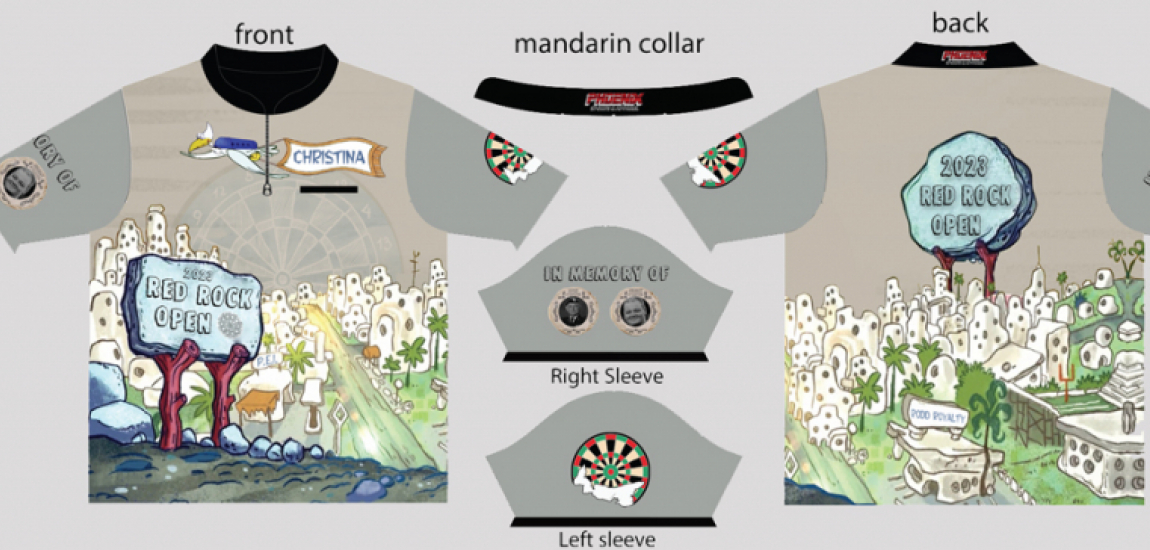 Prepare to elevate your darting game and stand out at the Red Rock Open like never before with our brand-new Red Rock Open Dart Shirts! We're thrilled to introduce this exclusive collection of darting attire that's designed to capture the essence of this prestigious tournament while ensuring you look and feel your best on the oche. With the Red Rock Open just around the corner, now is the perfect time to gear up and make a statement with your darting wardrobe.
Using the play on words RED ROCK with BED ROCK, this shirt is inspired by the rugged beauty of the timeless fashion sense of Bedrock's finest residents. Our Flintstone-style dart shirts feature earthy tones, stone-like textures, and playful details that transport you straight to the Stone Age. When you step up to the oche in one of these shirts, you'll not only play with confidence but also rock the Flintstone look of - a modern stone age family.
With the Red Rock Open Dart Shirts, we're not just offering clothing; we're providing an opportunity to redefine your darting experience with a Bedrock twist. Whether you're a seasoned pro or a first-time participant, these shirts are a symbol of your dedication to the sport and your passion for the Red Rock Open with a Flintstone flair.
We are doing a 1 week rush order (September 8) to have these shirts in time for the tournament with your name on them. Just fill out the form below and send an e-Transfer to ops@peidarts.org and we will have it ready for you by the time the tournament starts October 20.