PEI Darts Presents - Red Rock Open
Wednesday, April 26, 2023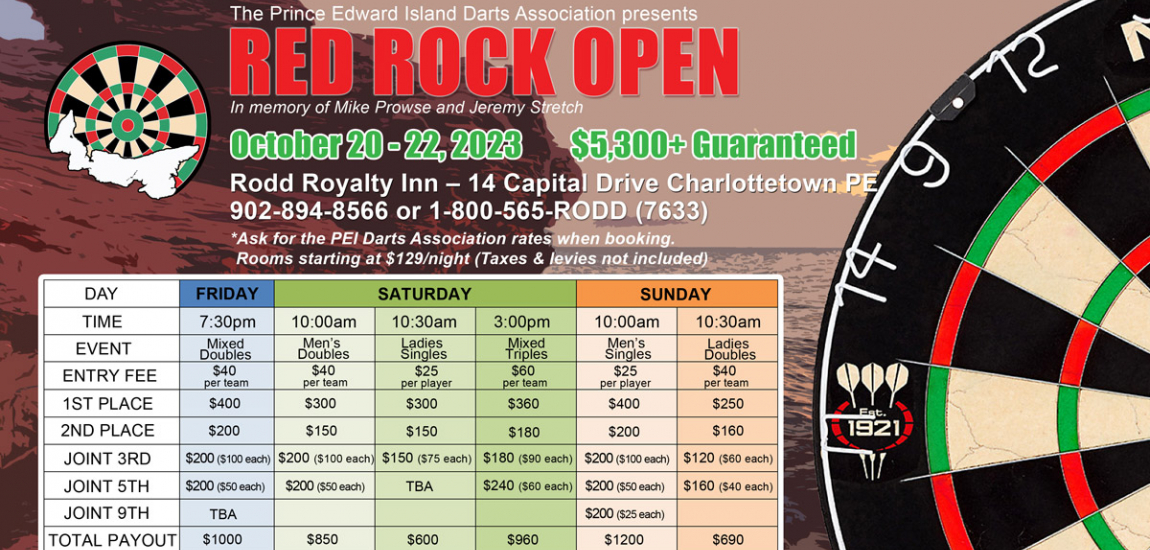 Location
Rodd Royalty Inn, Charlottetown PE
Attention all darts enthusiasts. We would like to announce the Red Rock Open, at the Rodd Royalty Inn in Charlottetown, PEI from October 20 to 22. The tournament will feature different events, including Doubles, Mixed Doubles, Mixed Triples and Singles, as players will compete for the ultimate prize.
If you're a fan of darts, this is your chance to see some of the best players from across the region compete against each other. The tournament promises to be a thrilling experience, with plenty of opportunities to witness the excitement and tension that comes with competitive darts.
Whether you're a seasoned pro or a newcomer to the game, this is your chance to put your skills to the test and compete in a nationally accredited tournament.
We hope you can join us for this exciting event, where you can connect with fellow darts fans and enjoy a range of activities and entertainment throughout the tournament. So mark your calendars and get ready to experience the Red Rock Open – the ultimate darts tournament in Charlottetown, PEI.
DartConnect

Will you be joining us for this event? Ensure you've got a DartConnect account ready for a smooth check-in and registration process prior to your arrival. Please "Check-in with DartConnect" Now